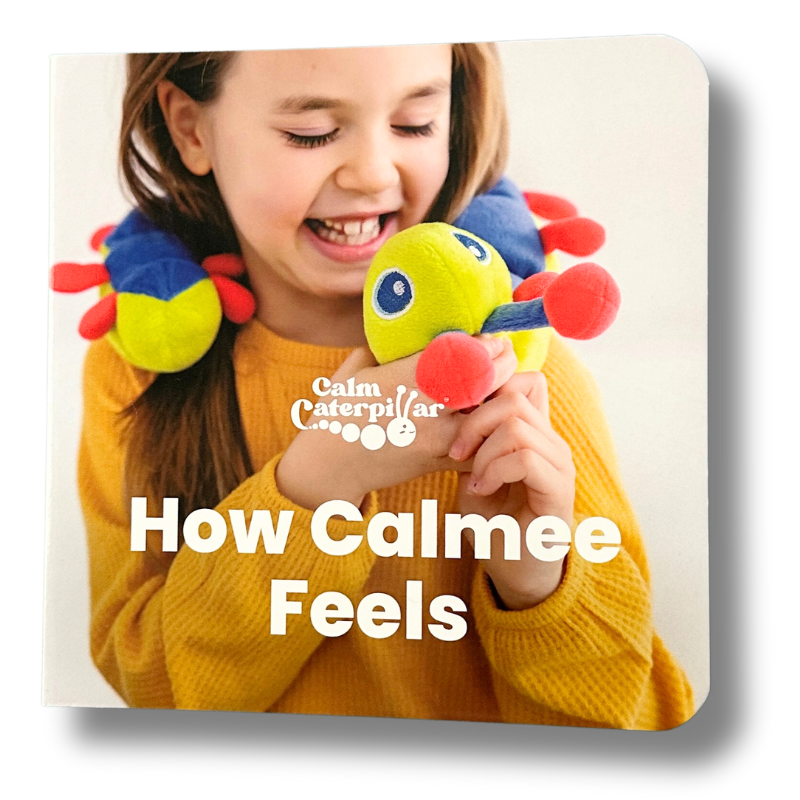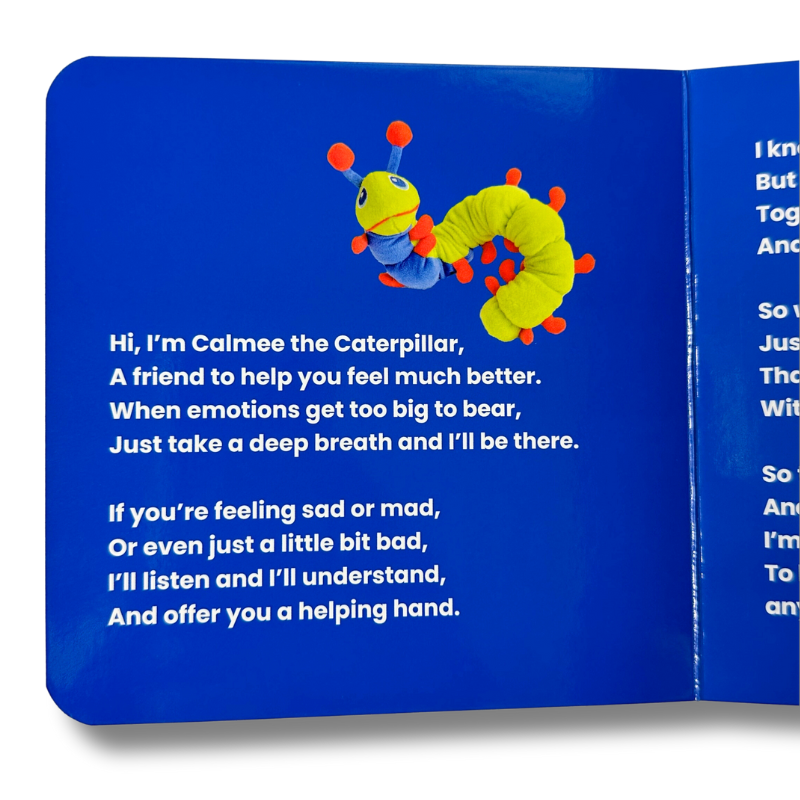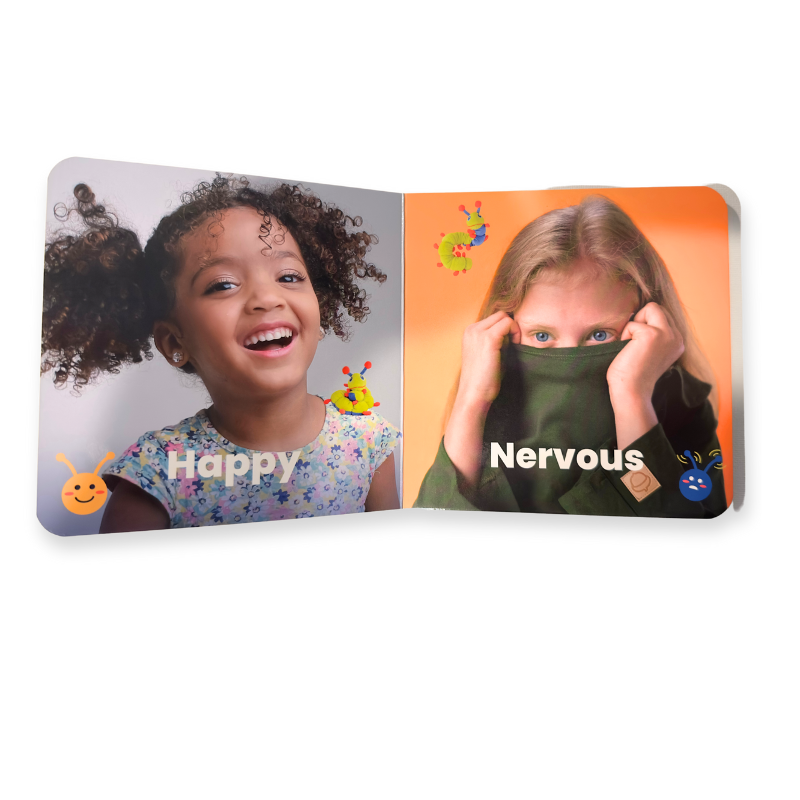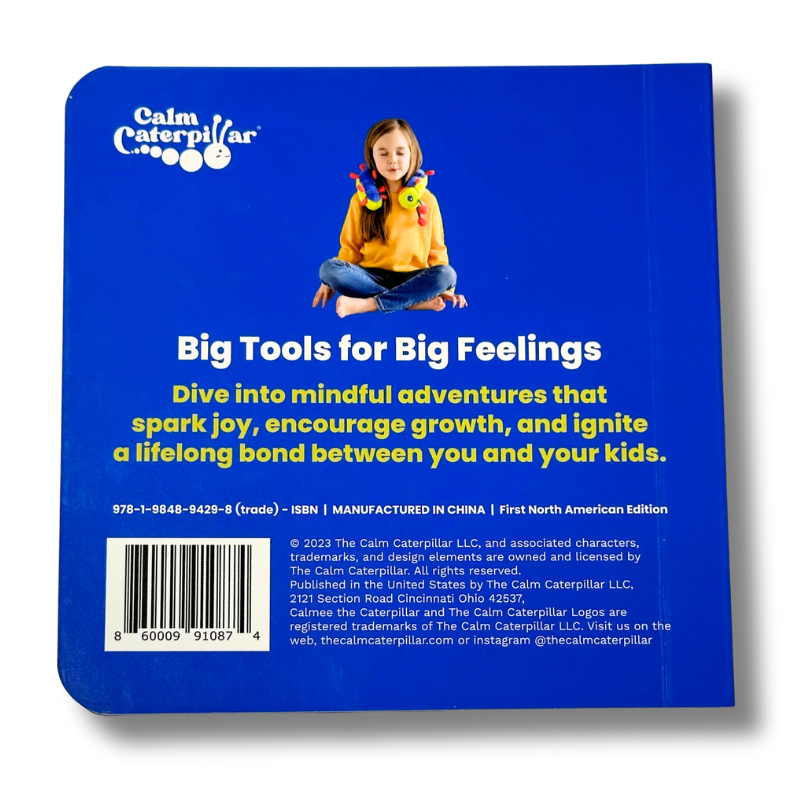 How Calmee Feels - Name That Feeling Book
🌟 Introducing the book "How Calmee Feels" - The Ultimate Mindful Parenting Tool for Kids 1-5! 🌟
At Calm Caterpillar, we understand the challenges parents face while raising emotionally intelligent children. That's why we're thrilled to present "How Calmee Feels," an enchanting book and soft plush weighted breathing toy that work together to nurture your child's emotional journey!

🌈 Why Emotional Intelligence Matters 🌈
Emotional intelligence is the key to helping your little ones thrive. With "How Calmee Feels," we empower children aged 1 to 5 to recognize and express their emotions with confidence. By learning about feelings like happiness, sadness, excitement, and calmness through Calmee the Caterpillar's adorable adventures, children develop valuable skills that last a lifetime.

📚 The Heartwarming Journey 📚
Embark on a heartwarming journey with "How Calmee Feels" as Calmee the Caterpillar shows your child how to navigate the colorful world of emotions. Our beautiful book engages young minds in interactive activities, making learning about emotions a joyful experience for both you and your little ones.

👩‍👧‍👦 Unite Through Connection 👩‍👧‍👦
At Calm Caterpillar, we believe in the power of connection. "How Calmee Feels" is designed to foster meaningful parent-child bonding moments as you explore emotions together. Our interactive approach creates a safe space for your child to express themselves openly and for you to provide the love and support they need.

💤 Mindful Breathing Made Fun 💤
With Calmee the Caterpillar, learning mindfulness becomes an adventure! The soft plush weighted breathing toy brings the story to life, allowing your child to practice calming breathing exercises and self-soothing techniques. These valuable skills not only help manage emotions during storytime but also extend to everyday situations. A great product to add with this book!

🍎 Perfect for Parents and Teachers 🍎
We know how important it is for educators to support emotional growth in the classroom too. "How Calmee Feels" is a fantastic resource for teachers, creating a positive and nurturing learning environment where emotional intelligence is celebrated.

🌟 Experience the Magic of "How Calmee Feels" 🌟
Unlock the transformative power of mindfulness and emotional awareness in your child's life. Embrace the enchanting world of Calmee the Caterpillar and build a solid foundation for your child's emotional well-being. "How Calmee Feels" is more than just a book; it's a journey of love, connection, and emotional growth that you and your child will cherish forever.

Join the Calm Caterpillar family and let "How Calmee Feels" be your guide to raising emotionally resilient children. Shop now and witness the magic unfold! 🦋💕
Our instagram
Join our online community