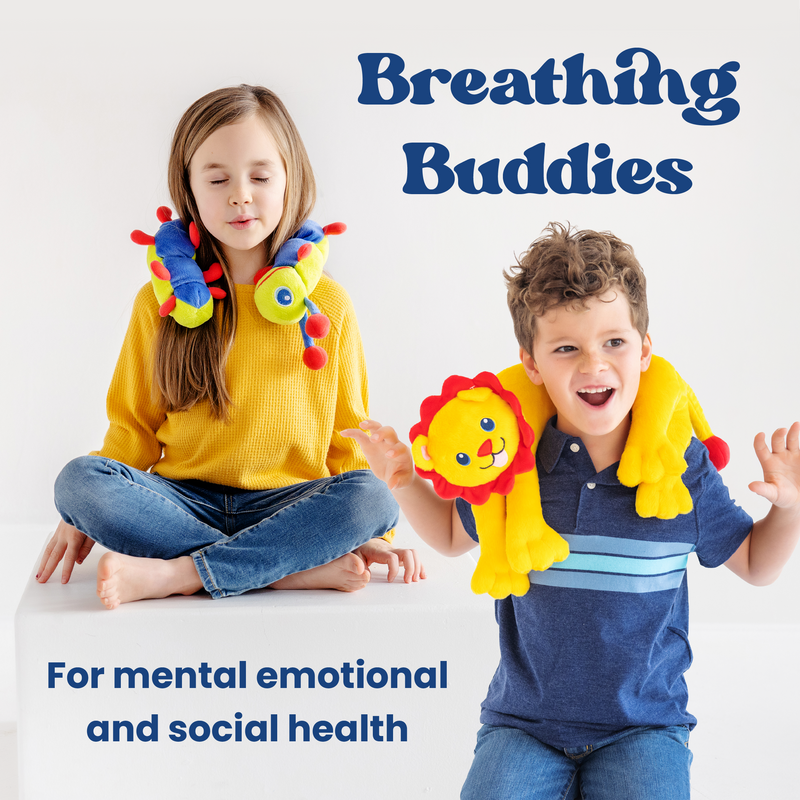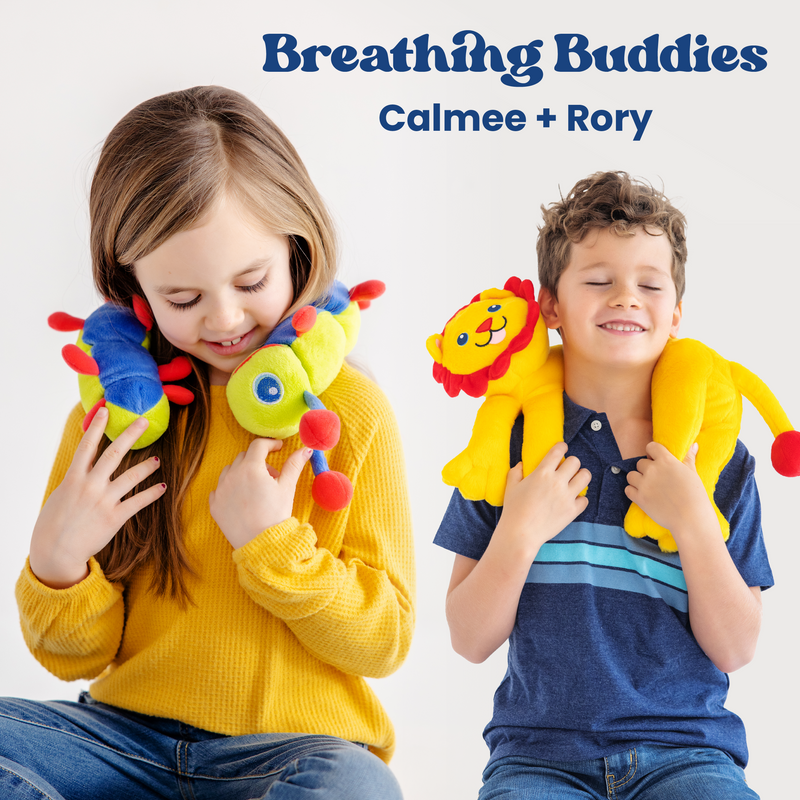 Breathing Buddies: Calmee the Caterpillar + Rory the Lion
Introducing the "Breathing Buddies Bundle": Your Child's Path to Calmness

Are you ready to empower your child with the tools they need to navigate their big feelings and find tranquility within? Look no further than our "Breathing Buddies" bundle, combining the soothing powers of Calmee the Caterpillar and the empowering presence of Rory the Lion. And here's the best part – when you purchase these two amazing companions together, you'll enjoy $10 off!

**Calmee the Caterpillar:**

**Discover Calmee's 3 Essential Functions:**

**1. Expanding:** Help your child focus on the simple, yet profound act of breathing. Stretch Calmee to enhance their awareness of inhales and exhales. It's an engaging way to learn how to breathe in and out effectively.

**2. Weighted:** Draped around your child's neck, Calmee offers a sensory experience like no other. The gentle pressure provides comfort and soothes the nervous system, fostering a profound sense of calmness.

**3. Counting:** Encourage your child to count Calmee's 10 body segments as they breathe. This tactile experience merges with the rhythmic practice of counting, allowing them to take control of their nervous system.

**The Magic of Calmee:**

Calmee helps children regain emotional control by facilitating regular, mindful breathing. The caterpillar's expanding feature encourages consistent breathwork, resulting in a calmer, more composed child. When draped over their neck, the weighted sensation creates a soothing sensory experience, further promoting serenity. And the counting component engages their sense of touch while teaching them to breathe for emotional regulation.

Every child is unique, and Calmee offers three different techniques to meet their individual needs, depending on the day's challenges.

**Rory the Lion:**

**What's Rory All About?**

Rory is your child's guide to practicing deep, calming breaths. With a focus on how lions breathe, Rory's roars and gentle presence enable your child to embark on the journey of Lion's Breath, side by side with their trusty lion friend.

**Rory's 3 Essential Functions:**

**1. Weighted:** Draped around your child's neck, Rory provides a comforting sensory experience. It's like a soothing hug, calming the nervous system and instilling tranquility.

**2. Lion's Breath:** Press Rory's nose, and he roars just like a lion. This interactive feature encourages your child to practice Lion's Breath alongside their buddy Rory, teaching them how to use deep breathing to regain control of their emotions.

**3. Feelings Mantra:** Rory helps children understand the power of self-talk with his mantra, "When I am feeling sad or mad, I take a big breath in and roar out my feelings." This empowering reminder reinforces the use of deep breathing to change one's emotional state.

**The Wonders of Rory:**

Rory's versatile functionalities aim to calm your child when worn as a weighted sensory companion and introduce them to Lion's Breath, an exciting and beneficial breathing exercise. Additionally, his feelings mantra guides children toward developing positive self-talk, emphasizing the role of deep breathing in emotional regulation.

**Important Note:** Rory's voice box is conveniently located in a zippered pouch behind his head, making it easy to remove for machine washing and air drying. Please be cautious of small battery parts, as they could pose a choking hazard.

Elevate your child's emotional awareness, instill mindfulness, and encourage positive self-talk with the dynamic duo of Calmee the Caterpillar and Rory the Lion. Don't miss this exclusive opportunity to purchase both Breathing Buddies together at a special $10 discount. Your child's journey to calmness starts here.
Our instagram
Join our online community